Kennedy Most Dangerous Game, Why Kennedy is my second favorite Hunter, as a Ruthless Hot Asian Chick
Kennedy, is the name of the fourth hunter that we see in the show Most Dangerous Game, and she First appears in episode 11, when dodge ends up on a cruise ship, at the Buffet, Hungry, thirsty, and tired, eventually meets her while she is dressed as a waitress on the boat, of which she kicks him in the throat with her heel, and begins to straight up kick the heck out of him, as dodge said in the show. I really liked the scene, not just because one of the hunters was finally a hot Asian chick, instead of an old man with long hair, but also because of the martial arts forte that this woman portrayed against dodge.
As someone with a taekwondo and jujitsu background, I found it very interesting that she used martial arts tactics like A triangle choke and a tornado kick, in order to subdue her opponent. Dodge would end up escaping, and would end up clinging to a roof above a boat, to avoid crossing city lines across the Canadian border, in order to stay in the game without the game never ending.
Kennedy Most Dangerous Game, What Scenes is Kennedy In?
After this, Kennedy is only seen one more time throughout the show series, at the final episode of the game, when dodge lights up his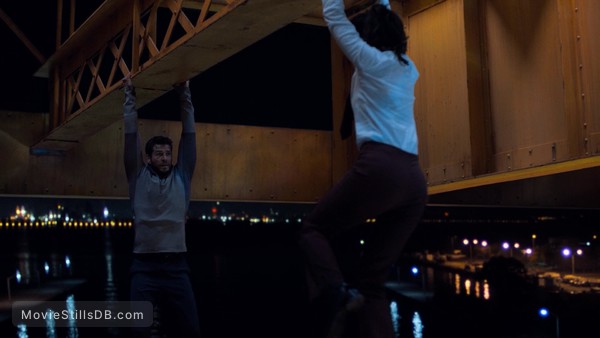 fathers old car factory, and uses it to sort of bait and trap the hunters, inviting them into come and get him, while setting up a trap, breaking an explosion, and setting up a few other things.
I really like that scene on the last episode of most dangerous game, in that it shows how when dodge finally decides to go on the offensive, but he eventually when's the hunt, as he starts to hunt the hunters. Kenny overall, is my Second favorite Hunter?, and she does a really good job in playing her role. Although she was only a mild support character, I really enjoyed the handful of scenes that she was in, and definitely would've hoped to see her again in future seasons.
Final Thoughts on Kennedy from the Most Dangerous Game, and Why I Like Her Style
Overall, I was sad to see Kennedy go, and was thinking that she could've definitely been the one to bring home the finale scene, rather than Nixon, although the ending scene with Nixon and the Ice Pick was definitely priceless, and was a great way to end the first season of The Most Dangerous Game TV Show. For more information on the Most Dangerous game, as well as all things Finance, Money, and Character Reviews, be sure to subscribe to our blog for regular updates and information, and to comment down below and we'll get back to you within one business day with a response.
Cheers!
*Inflation Hedging.com
Sources:
https://www.bankrate.com/banking/cds/cd-rates/
https://money.cnn.com/data/markets/
Disclaimer: The opinions and documentation contained within this article and on this blog are the sole property of inflationhedging.com and are not to be copyrighted or reproduced in any manner, else legal action within the rights of the United States legal code could be use to obtain recompense. All articles and blog posts are the sole opinions of the writers of the blog, and are not necessarily in line with what exactly will work for you, you should consult a CPA, Tax Professional, or Financial Professional to determine what exact financial needs are in line with your interests. Also, from time to time, certain links on this website will be used to generate affiliate commissions, in order to support the health and growth of our website, health and business.